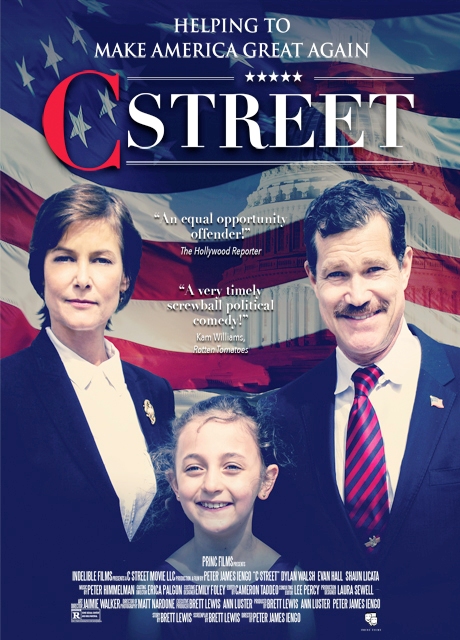 C Street is an indy political comedy about a power hungry intern (Guy) who converts his apartment into a kind of no-tell motel for sex-starved politicians with a plan to control politics through sex.
Guy was on the fast track to power. Everything changes when he finds his dream girl, Haley, naked in his bed — waiting for his boss, US Senator Fallon (Dylan Walsh), an approval seeking backstabber who pulls the strings. His slick Senator boss was using Guy's apartment to have an affair with Haley. Before Guy has a chance to express his true feelings, half of Washington shows up at his  apartment unannounced – all looking for love. Guy will have to corral the libidinous lawmakers, and decide what truly matters if he's going to find redemption and win the girl of his dreams.
"An equal opportunity offender." – Hollywood Reporter
"A very timely screwball political comedy! " – Kam Williams, Rotten Tomatoes
"Couldn't be more timely, more hilarious, or more satiric."- Debbie Lynn Elias, Behind the Lens 
Click here to see the trailer!
Director:   Peter James Iengo
Starring:   Evan Hall (Orange is the New Black, Rebel in the Rye), Dylan Walsh (NIp/Tuck, Secretariat), Carey Lowell (Licence to Kill, Sleepless in Seattle)
Year:  2016
Country:  USA
Running Time: 86 minutes
Genre:  Comedy