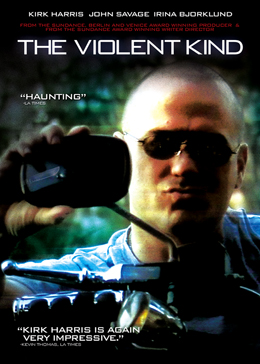 A modern thriller in the tradition of Kubrick and Lynch – "The Violent Kind" tells the story of a US Marine who has just returned home after three tours of duty in Iraq. In an attempt to reunite with his young wife and Vietnam veteran father, he takes them back to the family cabin in Montana. Once there his past and present collide in a horrific tale that descents into insanity as he comes face to face with terror dug up from the past, with fateful consequences for everyone close to him. The Violent Kind will receive it's theatrical debut just two months prior to the home video release date.
"HAUNTING" —LA Weekly
"Kirk Harris is again very impressive." —LA Times
"Scares us into a grim understanding of a psychologically disturbed war veteran." —LA Times
Click here to see the trailer!
Director: Kirk Harris, John Savage, Irina Bjorklund
Starring: Geoffrey Pepos
Year: 2008
Country: USA
Running Time: 87 Minutes
Genre: –