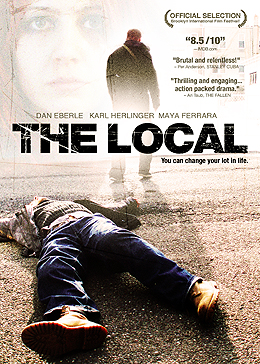 The Local follows Noname, a man adrift on the dark edge of society. Tortured by former addiction and a violent past, Noname has taken refuge in the bowels of New York, living in total anonymity, residing in a filthy basement, and working as a low-rent drug runner for a gang of crazed veterans, lead by Big Black, a psychopath with a daddy complex. In Big Black's lair, Noname meets a cadre of damaged, war-scarred thugs, along with Claire, a naked, drug-addled young girl, who lies on the couch, drifting in and out of consciousness. Risking life and limb for $30 a day, Noname finds that anonymity is not so easy; violence and danger are everywhere. As Big Black thrusts him into increasingly chaotic circumstances in the Brooklyn underworld, Noname tries to do his thankless job and avoid trouble, but trouble finds him every time. Out of nowhere, Noname is approached by Frank, a wealthy man from the other side of the tracks. Frank reveals that he is Claire's father, and offers Noname $5000 to get her out of Big Black's lair, whether she wants to go or not. Noname realizes saving Claire is more than a payday. It will grant him a way out of his purgatory, and open a path toward personal redemption and righteousness. A superbly conceived existential neo-noir-suspense-thriller, written and directed by award-winning filmmaker Dan Eberle (JailCity), The Local stylishly depicts the underbelly of the city, where the good is buried deep amongst the bad, where a sinner can still redeem himself in a world broken beyond saving.
Courtesy of Vanguard Cinema
Click here to see the trailer!
Director: Dan Eberle
Starring: Dan Eberle, Karl Herlinger, Maya Ferrara
Year: 2008
Country: USA
Running Time: 90 Minutes
Genre: Thriller/Suspense