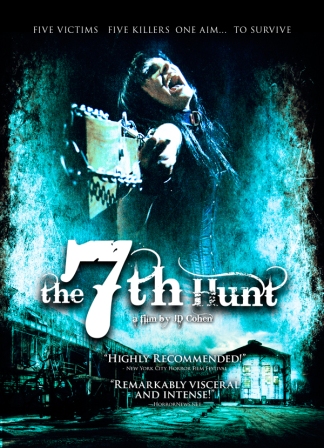 The victims of the 7th hunt never knew that they were being stalked, photographed and profiled.
How could they have known that files were built on their eligibility – TO DIE?! For the gothic Callie, her deaf sister Arie, the beautiful Sarah, a nerd Chris and misogynist Ricky –  their evening plans are about to be rewritten. They are about to discover who they really are. Kidnapped and taken to an abandoned military training school, they find themselves the targets of five sadists, each with their own style of killing: the Knife, the Inquisitor, the Hand, the Sniper and the Hacker. They fight for their lives against these vicious sociopaths, becoming increasingly outnumbered as their friends are killed off… one by one.
In the tradition of SAW and HOSTEL.
Remarkably visceral and intense, and fresh enough to offer something different!" —HorrorNews.net
"Does a superb job of building tension. I highly recommend it!" — New York City Horror Film Festival
Click here to see the trailer!
Director: JD Cohen
Starring: Imogen Bailey, Jason Stojanovski, Matthew Charleston, Tasneem Roc, Kain O'keefe
Year: 2009
Country: Australia
Running Time: 94 Minutes
Genre: Horror