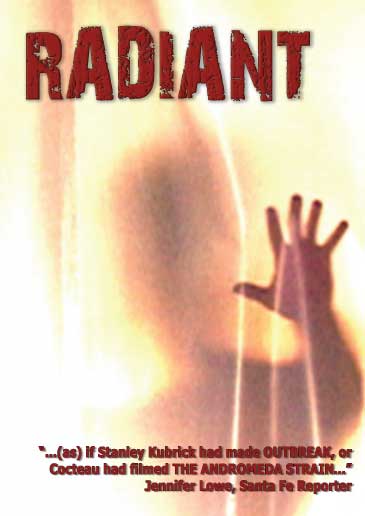 Four desperate people haunted by chronic, misunderstood medical ailments are accidentally infected with an experimental 'perfect virus' called radiant and taken on a kaleidoscopic ride into the heart of the desert and to the outer edges of the human experience. Seeking to quarantine themselves, and hunted by the government like plague-ridden animals, they run into the wastes of the parched Southwest, watching each other with a dreamlike fascination as the virus begins to change them. What are they becoming? Will they live long enough to know? Come with them to a place called the City of Stones, where age-old fears meet the New Flesh–where man becomes radiant.
"A DAZZLING NEW WORK, pumping vigorous cinematic imagination into classic science fiction paranoia! Delivers a memorable audio-visual experience. —Variety
"An intelligent film about survival and fear of the unknown" —SciFi London
"A Paranoid Sci-Fi Mind-Fuck!" —Dallas Observer
"As if Stanley Kubrick made OUTBRREAK, or Jean Cocteau had filmed THE ANDROMEDA STRAIN" —Jennifer Lowe, Santa Fe Reporter
Click here to see the trailer!
Director: Steve Mahone
Starring: Matthew Tompkins (Machete), Laura Whitsett (Premonition)
Year: 2008
Country: USA
Running Time: 100 Minutes
Genre: Sci-Fi