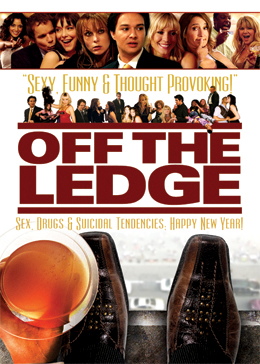 Sex, Drugs and Suicidal Tendencies… This ensemble driven comedy-drama revolves around a New Years Eve Party, where the party goers are oblivious to the true atmosphere of pain amid their celebration of life and renewal…
As off beat party-goers spontaneously ring in the New Year at a Hollywood hills home, four hapless individuals intertwine as they do their best to survive the evening, and in the process, witness first hand the meaning of "how to save a life." By the time midnight passes, each individual will find their lives changed forever, leaving them with an abundance of introspective thoughts and feelings that will carry them through the rest of their lives, and perhaps prevent them from falling… off the ledge. Ultimately, this is an edgy, amusing exploration of life, new-year resolutions, and new beginnings, with a wry twist of fate.
Also starring: Carlee Avers (Are You Scared, Veronica Mars), Maria Cina (April's Shower, Wild Things 3), Yan Feldman (Serenity, Relic Hunter, Stargate SG-1), Zosia Mamet (The Unit, Spartan), Raymond O'Connor (The Rock, Just Like Heaven), Alex Petrovitch (Lost, Bled), Andrew Pinon (Diamonds & Guns), Bree Sharp, Fay Wolf (Terminator)
Click here to see the trailer!
Director: Brooke P. Anderson
Starring: Brooke"Mikey" Anderson, Nathan Baesel, Maria Cina, Zosia Mamet, Jenny Mollen, Anne Ramsay, Nectar Rose, Justin Whalin
Year: 2009
Country: USA
Running Time: 89 Minutes
Genre: Comedy