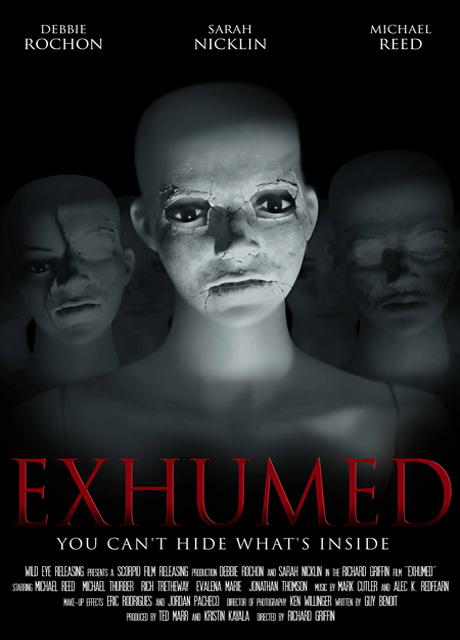 A moody, atmospheric horror in the Hammer Films tradition, Exhumed is the tale of a twisted and mysterious family who, unable to leave their home for unknown reasons, turn their captivity into a disturbing and violent game that will challenge their very reality – and put all their lives at risk. A psychological thriller created in a beautiful, noir style that is unlike any other horror film you have experienced.
"You Can't Hide What's Inside."
"Visual Eye Candy … an unsettling slice of psychological horror." – bloodygoodhorror.com
"Psychological horror that delves deeply into the characters, rather than cheap scares and recycled plot." – The Examiner
"One of the most unique genre films out there."- allthingshorroronline.net
Best Cast, Pollygrind Film Festival
Best Feature Film, Flickers Horror Festival
Best Horror Feature, Buffalo Screams Horror Festival
Click here to see the trailer!
Director: Richard Griffin
Starring: Debbie Rochon, Sarah Nicklin, Michael Reed, Evalena Marie, Michael Thurber, Jonathan Thomson, Jocelyn Padilla
Year: 2012
Country: USA
Running Time: 86 Minutes
Genre: Horror